History of more than 100 years,
Eight business domains
 "Sea," the source of life
The sea is full of creativity, evolution, and the future.
 Nankai Chemical's products and technologies have constantly created new values while sensing various waves in the big field of "chemistry."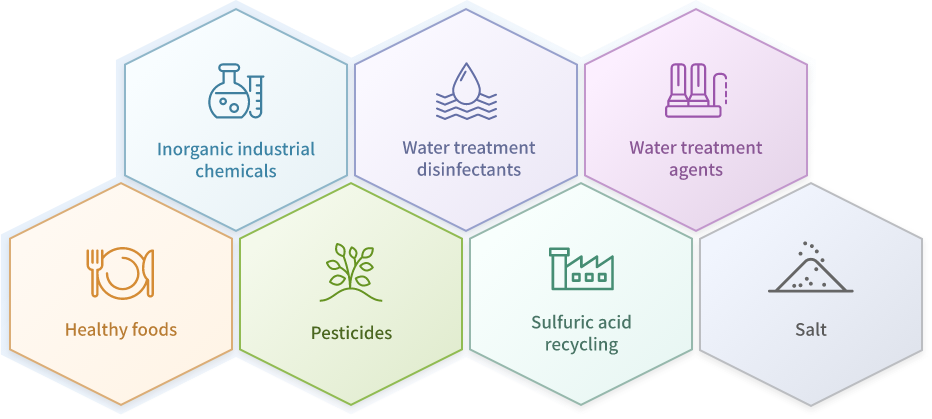 Inorganic chemicals
Our company produces and distributes basic raw materials for all products indispensable to industry and daily life.
Our high-quality inorganic chemical products are stably produced with electrolytic equipment through the full utilization of our technologies. Particularly, liquid caustic soda is used in a wide range of industries, such as paper/pulp, chemical fibers, and alumina, as a basic raw material for various products. Furthermore, chlorine turns into liquid chlorine, sodium hypochlorite, and hydrochloric acid as raw materials for secondary products, and is widely used for bleaching and sterilization in various fields, such as water and sewage, medical care, foods, etc.
Furthermore, polyaluminum chloride/sulfuric acid band, a flocculant for aluminum compounds, is used for water purification, etc.
We produce and distribute a wide range of high-quality products to meet users' needs by utilizing our characteristics as a comprehensive manufacturer that consistently produces everything from chemical products indispensable for all industries and daily life to environmentally friendly products.
Water treatment disinfectants
Our mission is to render precious water resources "safer and more secure."
Nankai Chemical's organic and inorganic chlorine disinfectants and sanitizers widely contribute to the hygiene management of pool water for children, as well as of water purification plants. They are also used to sterilize and disinfect water discharged from factories and sewage septic tanks, thus contributing to local wastewater and water environment management.
Water treatment agents
Water treatment agents are also utilized in water purification plants for "creating water" and in sewage treatment plants for "purifying wastewater."
The water treatment starts with the flocculation and precipitation of melt in natural water from river.
Nankai Chemical's eco-friendly flocculants play an important role.
We also provide products depending on the properties of wastewater from factories, livestock, and sewage.
Healthy foods
Nankai Chemical's health foods contribute to a healthy society with the safety and security of dietary habits.
Natural glucosamine, expected to support smooth joint movement, is consumed as a medicine and health food throughout the world.
We will contribute to society by extracting useful substances from natural products and preparing various products with the substances. Food additives, such as sodium acetate, in seasonings and preservatives support a rich and safe diet.
Organic fine chemicals
Besides the synthesis of organic chlorine compound intermediates, we are providing various products in the field of organic fine chemicals.
Nankai Chemical's organic fine chemicals meet various needs in our specialties of intermediates, such as dyes/pigments, pesticides/pharmaceuticals, resin additives, and electronic materials, using accumulated technologies and know-how of organic chlorine compounds.
Pesticides
Chloropicrin is a soil fumigant suitable for controlling soil pests in various applicable crops.
Chloropicrin controls soil pathogens and nematodes, i.e., the causes of continuous cropping disorders, by soil fumigation.
Chloropicrin tablets are particularly favored in cultivating crops in facilities because they are solidified by special technology and covered with a water-soluble film to reduce their pungent odor during processing.
We will continue R & D and safety enlightenment activities for its safer and easier use, and provide products and services appreciated by consumers more than ever.
Sulfuric acid recycling
NC Environment Co., Ltd.
A reliable environmental recycling by accumulated unique technology in sufficient consideration of pollution-free treatment.
Recycling is more strongly demanded than consumption for sustainability of the global environment.
We are working on recycling, including sulfuric acid pitch and waste sulfur treatment by utilizing our accumulated technology for recycling waste sulfuric acid.
Our method is characterized by environmentally friendly and pollution-free treatment for recovering and reusing sulfurous acid gas through combustion reaction. This method solves the problems of industrial wastes, such as waste acid (waste sulfuric acid), waste sulfur, and sulfuric acid pitch.
Specially-controlled Industrial Waste Disposal Business [License number issued by the mayor of Wakayama: 07270154638]
Industrial Waste Disposal Business [License number issued by the mayor of Wakayama: 07220154638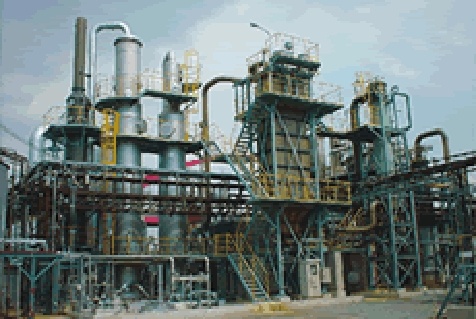 Salt
NM Salt Co., Ltd.
For various requests and inquiries about salt, including salt products and manufacturing methods, please contact us.
We are engaged in the import and export of salt products, as well as salt production, processing, and distribution.
Salt is used for killing and controlling harmful bacteria, as well as a seasoning, and also has an antiseptic action.
Additionally, salt is commonly used in our daily life, e.g., antifreeze agents, soil treatment, ion exchange resin regeneration, boilers, livestock feeds, leather, etc.